Building Links
BuSo Pro
Digital Strategist
Joined

Nov 16, 2015
Messages

362
Likes

668
Degree

2
--- NEW/OTHER PRODUCTS ---
In addition to our regular outreach - where you provide us with your pages to target and we get going with some outreach (see below) just wanted to highlight some of our other services quickly [now that we're getting to the end of a massive order for one of them]:
*
Linkbait (2000 word link magnet type article) written by WordAgents + 10 links
to it (
@stackcash
on here) - we have a full thread on that here:
https://www.buildersociety.com/thre...linkbait-included-powered-by-wordagents.3133/
We're also doing similar things in the space with some really sexy
full page takeover linkbaits
- DM for sample/pricing on those.
As well as some
clever egobait stuff for $2,000
which doesn't come with minimum link guarantees but always yields at least 10 in our trial runs and has yielded up to 40 so crazy value and totally different links to what you'd normally be able to pick up so well worth it for anyone running large campaigns/needing to mix something different and super natural in. DM for more details.
Also I did a full guest post on the topic over at RankXL -
https://www.rankxl.com/egobait-link-building/
---
Hi Everyone,
Many of you know me here, and some have even worked with me on their link campaigns, but for those that don't:
I run a digital agency that does tons of white label linkbuilding and also wrote the outreach guide in the crash course here on Builder Society.
I've been thrown campaigns as tough as
gambling links
, and
viagra sites
, and still found a way to help them craft appealing content, and build links to it.
Pricing
Out 'in the wild' we're
extremely competitive
. People who can supply the volumes of link, to the kinds of sites, and at the quality we hit, often charge
$250 to $300 to their agency clients
.
We're a lot less
than that, because, as you can probably tell from my outreach guide, I'm obsessed with improving our processes, team and strategies way beyond what's taught in public on popular blogs, or the strategies that many
big agencies lazily employ
because of their high profit margins.
Our standard tiers are shown below, but you get an exclusive BuSo only discount (mention BuSo if you get in touch other than on here directly!):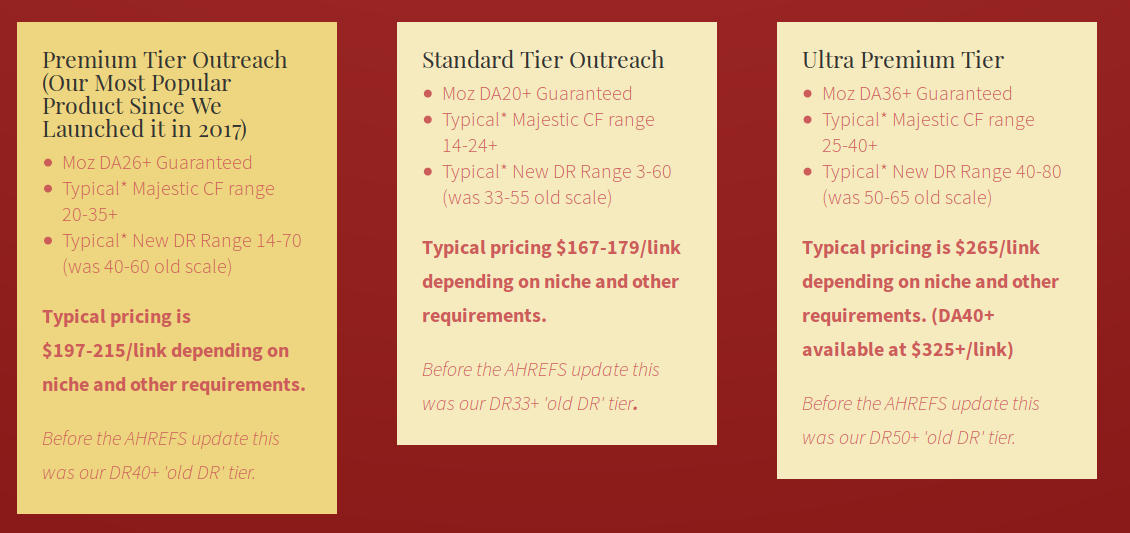 * typical ranges are based on 80% of an order being in that range. DA is guaranteed.
Standard tier BuSo rate: $165/link ($2-14 off)
Premium tier Buso rate: $191/link ($8-23 off)
Ultra Premium tier BuSo rate: $250/link ($15 off)
Our minimum order is
5 links
.
Our
re-order rate
for the year 2016 from people who bought one batch going into a second month was
98%
. That's how satisfied our customers are with their first batch!
Regular customers also get bonus links on top of their regular ordered amount. Customers who meet these criteria (about 40% of our order book) regularly get 10% extra link bonuses each month:
You write great content, or build beautiful linkbaits, and your stuff is generally going to be easy to promote
You are operating in a link-friendly niche (eg pets, parenting)
You want to place a larger than average order
How We Obtain Links
As you can tell from my guide in the crash course we do natural,
'Public Relations style' outreach
to good quality sites to obtain links so there are
no spammy placements
. We also make sure the link is in an article that is
highly related
to the topic we're promoting. We have blanket non-disclosure with our clients but have promoted our own PR guide to show as samples: (they're in an image as I don't want referral traffic from this domain going to them... naturally).
You can see the articles are all
highly related to PR
, and my team has even managed to secure placements on
competing PR businesses
...
And that's why so many people use us, even
some of your colleagues here on BuSo
. We're not the cheapest - even though we're much cheaper than the big link shops, we're more than one man band grinders - but we do deliver more in these areas:
Better average quality: when we do white label work we're almost always up against another contractor. More than 75% of the time we end up with all or most of the business. Even though everyone can guarantee a minimum quality, our AVERAGE quality (by whatever metric you're measuring) will almost always be higher. That means our links are actually cheaper when you weigh them against results.

Think! What would you rather have 10 links averaging 23 DR or 7 with the same minimum but averaging 35 DR for the same money - remember it's a logarithmic calculation so 35 is WAY ahead of 23...?


Reliable regular delivery: We can turn around the first batch of any order, or one-off orders in 4-6 weeks, and for regular customers deliver monthly +/- 3 days like clockwork. I'm personally in touch with all my customers regularly on Skype or by e-mail to update them. No ticket system or impersonal service.


Relevance, and tidy links: Some of our competitors links are over-engineered with unnatural looking content, built for links sites (which qualify on metrics but aren't very good otherwise to have in your profile). Our batches are editorially given, so often look tidier, cleaner, and have a better mix of sites.
So if you're ready to take your site to the next level, and get your content the links it deserves, let me know and I'll get you set up. We're always ready to take new orders, and
anything less than 50 links we can start within a week
.
I also do custom campaigns that include writing/assisting with development of suitable linkbait/linkable assets if you're not currently hitting the mark with your creativity.
Placing Your Order:
The easiest way to get in touch is via PM here or by adding me on Skype so you can give me a run through of your plans and requirements:
Skype: Steve Brownlie (moculon)
Alternatively you can email:
steve@verticem.com
if Skype or PM on BuSo is unavailable. Please reply in the thread if you add me on Skype or e-mail so I can let you know if I don't receive your message.
Last edited: