Joined

Nov 7, 2014
Messages

587
Likes

593
Points

2
This video was posted on another forum just recently. If you haven't done so, watch it. This is 15 minutes of pure motivational awesome for anyone looking to make it online.
But, one section stuck with me:
If you want to do something, you have to love the process, because process is what you'll be doing all the time.
The "make money online" world lures a lot of people in by the promise of the result. And who wouldn't like the result?
Working from home, generating passive income while actively pursuing new income streams. The dream of a huge income. The dream of being a self-made entrepreneur. All these are valid and good and worthy goals to pursue.
But that outcome is not what you will be doing to arrive there.
What you will be doing is the Grind.
You will meet it in everything you do.
Working online, you are in a great position, as there are so many avenues to pursue. Video blogging, writing content, testing, domain flipping, PPC, you name it. But all will turn into the grind.
Like doing a video review?
Try making 50 of them, sitting in front of the camera for days on end.
Like writing?
Write 100 articles, and knowing that there are 100 more to be done.
Like A/B testing?
Do it every day, year in, year out, until you dream in MS Excel.
The Grind
Meet your new friend number one.
Want to know how to kill a passion? Get paid for it.
This works with anything. So before you decide to follow the mantra of "turn your passion into money" take a long, hard look at what you are getting into.
Love playing video games?
Guess what, making a web site on video games is a different beast. Leaving aside the hassle of dealing with the publishers, trolls in the comments, etc..​
Simply having to write 20 reviews per month (I am lowballing you here) is going to turn this into the grind.​
Play a game?
Maybe a few hours, taking screenshots and videos while you are at it, dictating notes and writing them down at the same time.

Then it is writing time.

Doesn't sound like the video gaming you like so much? That's what I thought.

So you better love writing reviews or the grind is going to turn you into oatmeal.​
But yes, you decide that you really want to do this. You love writing for, the web, you love copy-editing, you love the whole process.
Then you look at your site after a few months and you realize: it sucks.
Meet the second one of your new best friends.
The Suck
Sorry, but there is no easy way out of this. You will realize that your work is not up to the standard you want to set. You started with a picture in your mind on how to do things better, on how to stand out, of how quality should look like.
And then it dawns on you:
It's not that easy.
The good news is: You realize all this, because you are passionate about it, because you have an idea of how it should be.
The bad news is: You have to work your way through that valley of tears until you come out on the other end, ready to climb the mountain to quality.
But what to do?
The Solution: Hustle
Meet the only force available to help against the evil twins: the Hustle.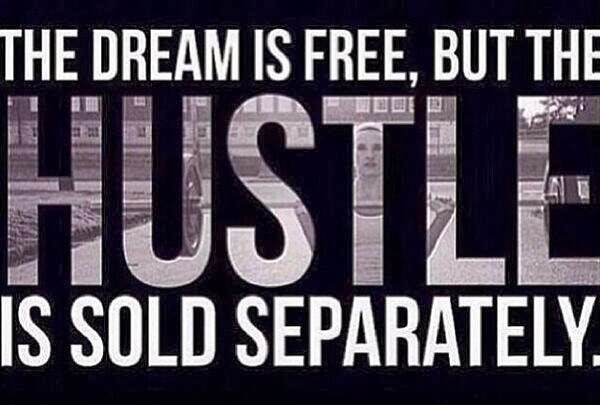 You will meet the Grind and the Suck whatever you do. The only remedy is relentless, aggressive, hard work, day in and day out.
Also known as: the Hustle.
It helps to be stubborn, too.
And you know what is weird? Once you accept this, there is joy in doing this.
Aggressive, hard work, pushing your limits, every day.
And the best: There
is
a reward.
A guy I chat with started his own site on mobile phones. Fiercely competitive niche, and at first thought, no chance in hell.
Fast forward to now – he supports not only himself and his family but three employees as well with that site.
How did he do it?
Keep in mind, he started the site from scratch.
He got a fresh domain, a wordpress theme, bought a logo and went to town.
For the first months, he was doing this thing solo. He literally wrote 400 articles in the first three months. He bootstrapped the forum on his site and hustled, hustled, hustled.
Of course the thing has evolved, with writers taken on board, and users filling the forum with content… but I know the guy is still hustling hard.
What does this mean for you?
You will get there, but
only
of you persist.
Looking at your articles makes you cringe?
Doesn't matter, you know you can be better. You set your sight on the price and you'll make it.
Your writing sucks?
Write more, get better.
Your site design hurts the eyes? Improve it.
So you whine at doing 100 articles?
Write 120, and then some.
You cringe because you have to edit, crop, describe and post 200 images?
Do 300 instead and then decide to do 50 more.
Nice thing about sheer stubbornness is that it is friends with the Hustle.
Take that synergy and ride it.
Hustle!
::emp::
In the interest of full diclosure: This is my article and was poublished on a (now defunct) blog a while ago. I reworked it for this forum.