Director
Moderator
BuSo Pro
Boot Camp
Digital Strategist
Joined

Sep 15, 2014
Messages

3,458
Likes

7,135
Degree

7

Do not discount offline channels for online traffic. You might be 100% internet but the masses don't digital 24/7. The key to marketing is conveying a problem to a solution in a manner that gives your target that "ah ha" moment. With client work the one thing about offline marketing is most older clients are more comfortable with it and they can see and feel you out face to face. The art of the face to face is becoming lost in our digital world, but there is still a vast world that's not taking advantage of some old yet true and tried techniques.
Radio
Normal radio and digital variations are still huge with gaining traction within the masses. You can go smaller buy advertisements on college radio stations which exist on campus for local colleges or if you have the contacts even underground radio station. I remember once we were throwing a party in South Beach, and man getting to these moving underground radio stations and negotiating with some unscrupulous characters - an experience you'll never forget. You gotta think about the person that starts an underground radio in the first place, they already out there...
Television
The masses still watch TV about 5 times more hours than they are online, so getting TV spots, even local ones, can help your brand's awareness. Local small businesses still do it cause the majority of their audience haven't gotten hip to the internet just yet. Don't discount an older audience, they've got more money at their disposal than a younger audience. Also you know you can buy local ad spots during the Super Bowl and not pay the millions of dollars right? you know that right?

Billboards
This is still huge for users in local settings. Concerts and parties still use these to get the word out there. You can start off as long as 2 weeks to get going. It's cheaper if you buy a month minimum, and coordinate any marketing promotions like postcard drops, TV spots, and radio spots before hand. Remember never drop your mailers before your billboards are up.
Snail Mail
Regular mail or postcards mail - snail mail is still a great opportunity to getting something physically to your audience. If you collect address of your users, you can send them free promotional items and other goodies to keep your brand in their minds. I like the postcard approach for reaching new audiences. (Look up out EDDM - Every Door Direct Mail).
Every Door Direct Mail
This is a program by the United States Postal Office which allows you to send 5000 pieces of mail to a given location, just input your zip code with no need to purchase a mailing list. They've got prices as low as $0.185 per piece, meaning you can hit 5000 homes or business with a $1000 investment. I mean this is probably the easiest mail drop service I've seen in a long time. Check it out: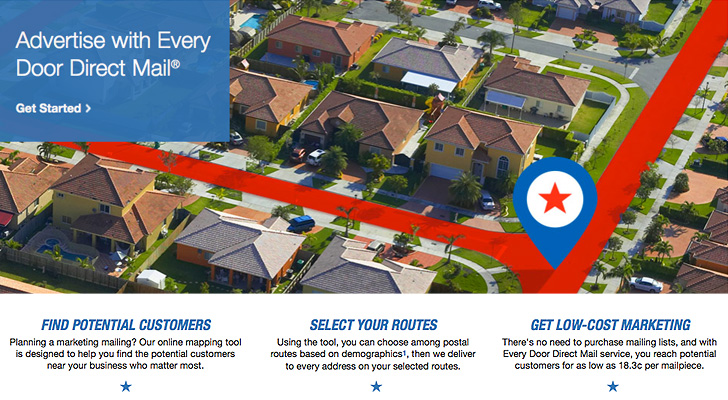 Business Cards
Good old fashion business cards can be left at thousands of places around your city. If you know a building is full of lawyers and you want their business, a snail mail drop to the whole building can get people talking. Follow up with a phone call and you're in the door. Your potential cold call is no longer cold.

Goodie Bags
Gift cards or goodie bags for events or as a local contest. If you know someone is throwing a contest or local event, try to negotiate with them, most likely you can get things done for free if you are providing some value like goodie bags to people that show up. They'll mention that in their promotion and give you further exposure. Throwing parties we did a lot of stuff to get on the radio and get extra mentions like buying the whole staff lunch for a week and then moved on to another station the next week, we were savages, no loyalty except to get the word out there about our events.
Non Profits
Helping out non-profits with your services for free can be not only a tax write off, but the non-profits will mention you as a sponsor, mention you brand & name to a room full of potential customers, within newsletters, and other promotions. There is a lot of politics at ALL of these organizations, but the key is to constantly add value and if you can go above and beyond to help the non-profit out, they'll introduce to their top donors and prominent individuals. The great part is you can use their logo, with their permission of course, on your website and wear it as a badge of honor that you help and provide free services for that particular non-profit. I suggest going for the known non-profits in your area, versus some start-up for the recognition.
Guerilla Tactics
Some bum marketing approaches like going to an event and giving out free t-shirts, and goodie backs at convention center have helped me in the past spread the word before I ever wasted time with SEO. I recall weekends where I'd pass out flyers on saturday and sunday and receive 5,000 to 10,000 visitors from this simple tactic. We'd go out every weekend and simply pass out flyers for our site and screw around on the beach, fun times, but it was work too.
Canvassing
Putting out inexpensive flyers or door hangers is an old school angle that still works. This is a numbers game like everything else. Back in my day we used to canvas for a pizza store I worked at, after the canvasing that night we'd get phone calls left and right for pizza delivery, simple and effective. (God damn how many of these offline tactics did I personally do, shit brings back memories).
Workshops
Offer free services or consulting at workshops - or start your own. Get the word out there to business that need your service and providing some free food will get people coming to hear about your service and what you can do to help them.
Classified Ads
Yeah son, this stuff works. People, especially older audiences still use the classified ads in newspapers and magazines to look up services and product.
Joint Venture
Get into strategic alliances with companies that compliment your services and you can go around the local area tag teaming events and showcasing synergy, while creating credibility by leaning off their authority.
Referral Program
Create a referral program so current customers or clients have an incentive to also give you additional business from their contacts. A nice sized referral program (the offline equivalent of an affiliate marketing program) can generate an individual with great contacts an nice side income, so the right person can send you clients left and right.
Speaking Events
Conferences, speaking engagements are all offline and perfect for creating unique online content with videos on youtube, pictures on social media and more. Speaking events will help you spread the word to your target audience. You can start at local levels at chamber of commerces events or non-profit events and network your way up the ladder while gaining clients that may need your help.
Special Events
Create custom signs and banners if the organizers allow you to and hang them up in prominent locations at special events (obviously you'll have to pay or sponsor the event). This can be local youth sports teams, at baseball games, etc. If sponsorships are available definitely check them out, you might be able to get a lot of exposure to a local region for less then a month's worth of Adwords, and you'll definitely have good will coming your way from within the community.
Meet-ups
Meet-ups are huge, in fact going to meet ups of every type and kind can get you exposure to outside your industry. Here is the trick, don't go to meet-ups of your industry. For example if you are an SEO and run an SEO agency, it doesn't make sense to go to an SEO meet-up, but you can go to an accountants meet-up instead. Go to meet ups outside your industry to gain clients that you need.
Print Publications
The online guest post is not a new tactic, editorials and guest writing has been happening offline since the dawn of the printing press, so find publications where you can add your 2 cents in for your industry and go for it. If you can get a column or section which you are willing to write for free that's just great free content for the publication and exposure for you. Find industry magazines and journals (from outside your industry of course) and utilize them to gain brand visibility and showcase your experience and expertise.
Print Advertising
Flip through magazines, newspapers, and other similar publications - is there still advertising in them? Than it's still a viable option. Testing different outlets, publishers, and figure out where your best bang for your buck lies. The key with this is to ask for their media kit and get the demographic information of their subscribers and audience, that way you know who you'll be targeting.
Trade Shows
Again similar to the meet-up tactics, don't bother going to your own industry's trade show, but rather go to other industry's events to get exposure to a new audience. At the very least you'll make contacts and start getting your brand known outside your industry. Word of mouth spreads within each industry, and if no other XYZ company is going to their events you can be king of the hill - IF you are able to provide a valuable service to that industry.
Church Bulletins
You notice after every mass they have those church bulletins they hand out - you can advertise in them! You can advertise anywhere, if something is being printed, you can advertise in or sponsor the printing of it for advertising spots. If you know a local event needs a print job done, offer to pay the whole cost with the exchange that you get to add your propaganda into the mix. People will eat that shit up.
Whether you realize it or not, most of your business will come from referrals and recommendations, and offline face to face are great ways to give people that warm feeling of "knowing" someone, even if you talked to them for 5 mins. Give them two business cards, one for them and one of a friend of theirs that might need your service. Don't discount offline tactics to getting online traffic. Word of mouth will spread far if you simple put your brand out there and can showcase real value to your audience.