Building Links
BuSo Pro
Digital Strategist
Joined

Nov 16, 2015
Messages

362
Likes

668
Degree

2
Turn Your Website Into A Link Magnet With Beautifully-Crafted WordAgents Content
And We'll Pick Up Those Natural, Powerful Links You Need To Rank
Many of you here know me and we've been providing our standard package of
editorially-given, natural, and outreach-based links
to the community here for almost a year.
For those that don't, I'm a linkbuilder who cut my teeth with clients in the
highly competitive Viagra, Pay Day loans, and Poker spaces
before moving on to Drug Treatment; all white-label work on behalf of some of the biggest names and agencies in the business.
Now I run a rapidly-growing outreach and link acquisition business that helps everyone from the smallest authority sites, making their start in the business, to
established players ordering over 60 links a month.
More Powerful Links
Our standard product has been hugely popular, but many of our customers have been coming to us for custom packages featuring higher authority links, or different types of content. Some clients have needed help with linkbait. We've combined those requests into our
most premium offering ever
.
Natural links are the cornerstone of building an authority site, but they're hard to come by. You have to craft beautifully-written content, worthy of being linked to. Then begin the painstaking process of outreaching to potentially interested webmasters to secure those links.
Reach Creator Premium handles the entire process for you. We generate ideas for premium linkbait content. WordAgents crafts it. All you have to do is post it and we'll secure high-authority links for you.
By crafting a new linkbait for you, every single order of 10 links, we secure authority links spread evenly throughout your site and new content. This is a powerful tool for your interlinking strategy [
check out my interlinking guide here
] which you can use to drive authority to your sales pages, homepage, and important early-funnel blog posts.
You don't even have to come up with the linkbait ideas, we handle it all with WordAgents. You just have to publish the post and add the free images WordAgents sources for you!
Key Features
We provide a quality linkbait article every order
Natural, relevant articles and anchors
Solid reason for the link to exist
Real sites we found through outreach
DA26+ Guaranteed
Typical Majestic CF range 20-35+
Typical New DR Range 14-70 (was 40-60 old scale)
Most contributed content written by WordAgents for an ultra-premium feel when you view the articles linking to you (since these are natural links, sometimes the webmasters provide the content)
Many of our competitors are selling DA10-20+ links (which we all know means a site that's existed for a bit and links to itself, and little more) for $199/link. For just $30 more you get a guaranteed DA26+ link and for every order of 10, a beautifully crafted WordAgents linkbait article.
Our Pricing (And For The First 5 Orders Only - BuSo Bonuses)
Our standard pricing available online (
http://reachcreator.com/outreachlinks
) is $2,350 for 10 links, including us coming up with a linkbait idea, @stackcash's team at WordAgents writing it, and us handling all the outreach, content and linkbuilding.
The first five have been grabbed (the four I mentioned earlier have paid and an existing client grabbed the last slot so the bonuses are gone) but we're extending the discount and price lock in to the next
five orders through BuSo PM only
:
$2,150 for the 10 DA26+ links and linkbait article (with images) -- $200 off
Locked in pricing - reorder every month and keep the price for 2 years, guaranteed
With the value of the long term price lock in (2 years if you keep ordering promptly after a cycle finishes) and the straight up $200 discount it's a great opportunity to join the first five and get a great deal on the best links and best linkbait we've ever offered.
Testimonials
Don't take my word for it, listen to what your 'colleagues' here on BuSo have been saying about our work: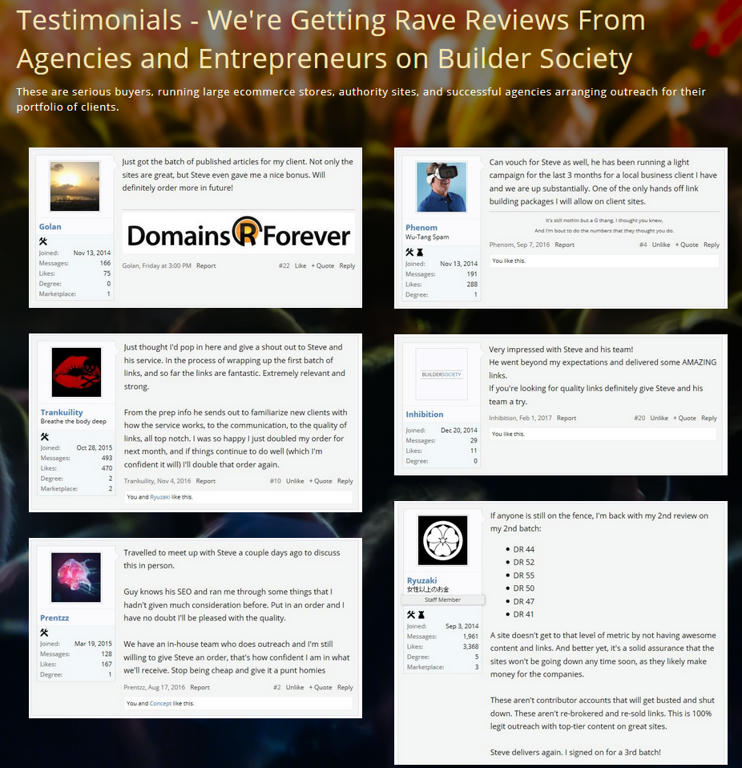 Questions?
Get in touch via PM here, 'moculon' on Skype or email to steve@verticem.com
Not all sites/domains will be suitable for natural links and outreach (particularly aggressive monetisation or some niches). We will let you know if you don't qualify before we move forward.
Natural links take time so delivery is typically 4-6 weeks. Once you're rolling with a monthly order we can deliver within a week of the renewal date consistently. No contracts, no commitments, all we ask is that you give us as much heads up - preferably at the start (not end) of your last order - as you can that you're not continuing.
Last edited: